If the US debt ceiling problem is agreed, will it have a negative impact on Bitcoin[Column]| coindesk JAPAN | Coindesk Japan
#OhNoCrypto
With the debate on the US debt ceiling stalled and the market uncertain, some analysts warn that a deal could hurt the cryptocurrency market.
The United States reached the $31.4 trillion debt ceiling mandated by law on January 19. To keep the government running, the Treasury Department has been forced to resort to emergency measures and use the balance of its Government Savings Account (TGA). So assets like Bitcoin (BTC), which is sensitive to fluctuations in USD liquidity, continue to be bought amid fears of government defaults and the Fed continuing to raise interest rates. It's here.
TGA balances fell from about $500 billion in early February to $68 billion last week, according to economic data provider MacroMicro. Goldman Sachs expects outstandings to drop to a bare minimum of $30 billion by early June, by which time a deal on the debt ceiling would need to be reached to avoid a catastrophic default.
Impact of increased government bond issuance
If a deal is reached and the debt ceiling is raised, the Treasury Department will try to increase the balance of the TGA by issuing government bonds. An increase in government bond issuance tends to push down bond prices and push up yields, which could drive more purchases of government bonds and drain liquidity from the market. Incidentally, Bitcoin is known to move in the opposite direction of government bond yields.
So while a debt ceiling deal might remove a lot of economic uncertainty, it could hurt assets like Bitcoin that are heavily dependent on US dollar liquidity.
"Issuing Treasury bonds to strengthen the Treasury also has the opposite effect: money moves from cash and risky assets to Treasuries. The body," said CoinDesk columnist Noelle Acheson.
"This may not be good for bitcoin and gold, which theoretically fall as yields rise (a high-yield environment is an unfavorable trend for zero-yielding assets). , public spending will rise, which is good for the economy and will further delay any chance of a rate cut," Acheson said.
Markets currently expect defaults to lead to panic selling and global demand for cash, similar to the March 2020 COVID-19-driven market crash that sent Bitcoin down more than 50%. It is said that it will cause On the other hand, the deal is seen as promoting a risk-on move.
Bitcoin lured investors as a safe haven around the time of the US banking crisis in March of this year, but interest rate-sensitive assets like tech stocks also performed well.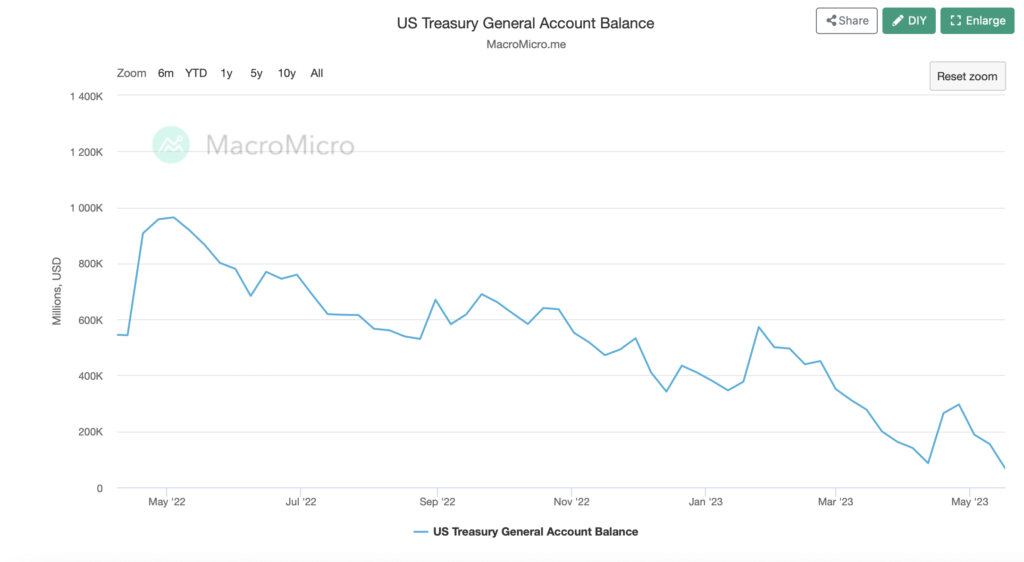 Does it lead to risk avoidance?
Satyakam Gautam, an interest rate trader at India's ICICI Bank, believes the Treasury will issue $700 billion in government bonds in the coming months, triggering a massive risk aversion.
"We expect a short-term US dollar shortage after the debt ceiling negotiation agreement. , junk bond issuers will be in trouble, and this could be the real crash that the US interest rate market has been looking for," Gautam said.
Furthermore, "long-term interest rates may decline in the long term, or significant steepening (the difference between short-term and long-term interest rates) may occur in the United States. If that happens, the Japanese yen and Swiss franc It should bode well for such low-risk (foreign exchange) assets," he added.
|Translation and editing: Akiko Yamaguchi, Takayuki Masuda
| Image: Mathieu Stern/Unsplash
|Original: US Debt Deal Could Weigh On Bitcoin Price, Some Say
The post If the US debt ceiling problem is agreed, will it have a negative impact on Bitcoin[Column]| coindesk JAPAN | Coindesk Japan appeared first on Our Bitcoin News.
OhNoCryptocurrency via https://www.ohnocrypto.com/ @Damien Martin, @Khareem Sudlow