A sign of change in the relationship between "good economic news = crypto asset price decline" | coindesk JAPAN | Coindesk Japan
#OhNoCrypto
This week's US unemployment insurance claims and GDP (gross domestic product) were solid, but the crypto asset (virtual currency) market price movements did not have a big impact. In the past, the relationship of "good economic news = falling cryptocurrency prices" may be a sign that things are starting to change.
For most of the past year and a half, crypto markets have fallen as employment and productivity conditions have improved. If these things get better, it shows that the economy is still expanding and that high inflation, which is negative for the cryptocurrency market, is not under control. Today, however, good economic news can drive cryptocurrency prices higher, or at least have minimal impact.
Even with economic improvement, crypto asset prices will not fall
The U.S. Department of Labor announced on Thursday that 229,000 initial unemployment claims were filed last week, an increase of 4,000 from the previous month, but well below the expected 245,000. In addition, GDP in the second quarter increased by 1.3%, expanding for the third consecutive quarter.
The cryptocurrency market initially reacted positively, with Bitcoin (BTC) and Ethereum (ETH) trading volumes rising, with prices up 0.44% and 0.71%, respectively. Over the next few hours, the price rebounded and leveled off.
Slowing inflation leads to a 'good news = good news' relationship
What is noteworthy is the direction and magnitude of the change after the release of the economic data. What happened over the past year tells us a few things.
Rising inflation remains a concern for the US Federal Open Market Committee (FOMC).
Federal Reserve Chairman Jerome Powell said he sees a strong job market as a barrier to keeping inflation in check as prices rise as the economy expands. Employment growth is a sign of economic strength.
As a result, crypto-asset prices often responded to good employment data with a decline and weak employment data with an increase.
For example, in December, crypto asset values ​​fell due to a drop in initial unemployment claims and an economic expansion.
With interest rates currently at 5.25% and inflation slowing, the market reaction to good data is likely to be more positively correlated (up), which bodes well for crypto assets as the economy improves. It will be.
Fed officials expect rates to remain between 5% and 5.25% until January 2024, according to the FOMC minutes earlier this month.
Officials did not signal whether to tighten or loosen the Fed's current financial hawkish stance and remained cautious. There was also a scene where he pointed out the possibility that the cumulative tightening of monetary policy would affect economic activity more than expected.
But he also said he expects a mild recession to begin in the second half of the year, followed by a gradual recovery.
Scenarios for profiting with Bitcoin
Bitcoin holders could benefit if the recession and subsequent economic recovery happens as expected.
If the relationship between cryptoassets and the macroeconomy shifts to a "good news = good news" relationship, the expected recession is likely to have a negative impact on prices, making it possible to buy Bitcoin cheaply. become.
And if a moderate recovery materializes, those who have accumulated positions can reap big profits.
One indication of the relationship between Bitcoin and economic growth is its correlation with copper. Copper is called "Dr. Copper" because it tends to quickly reflect trends in the world economy. The correlation between Bitcoin and copper rose from -0.63 on May 9 to 0.85, indicating a strong relationship between the two.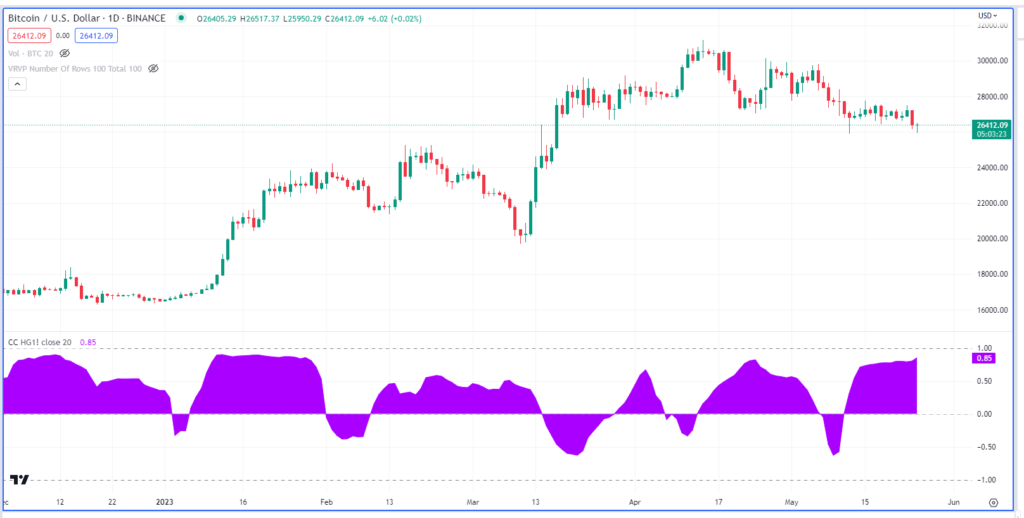 |Translation: coindesk JAPAN
|Editing: Rinan Hayashi
|Image: TradingView
|Original: The Relationship Between Economic News and Crypto Prices May Be Improving
The post A sign of change in the relationship between "good economic news = crypto asset price decline" | coindesk JAPAN | Coindesk Japan appeared first on Our Bitcoin News.
OhNoCryptocurrency via https://www.ohnocrypto.com/ @Damien Martin, @Khareem Sudlow