Elon Musk Encourages Dogecoin (DOGE) Holders to Leave Centralized Exchanges
#crypto #bitcoin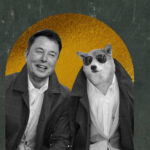 Centi-billionaire and long-time Dogecoin advocate, Elon Musk, has spoken up in favor of Dogecoin (DOGE) holders moving their coins off centralized exchanges.
Reacting to the "not your keys, not your crypto" post, Musk tweeted, "Exactly." An earlier post from MyDoge CTO advised users to leave centralized exchanges like Binance. The original post reads:
The core focus of the @MyDogeOfficial vision is to break the dependence on CEXs like binance and robinhood and let #shibes take custody of their own coins!

— MyDoge CTO (@MyDogeCTO) November 23, 2021
This is not the first time Elon Musk has encouraged Dogecoin holders to move to decentralized exchanges. In February, Musk noted that any wallet that does not allow its users to control their funds should be "avoided at all cost."
Binance still contributes the largest portion to Dogecoin's trading volume, accounting for more than 26% of all trades in the last 24 hours
Musk and Doge Vs. Binance
Join to get the flipside of crypto
Upgrade your inbox and get our DailyCoin editors' picks 1x a week delivered straight to your inbox.
[contact-form-7]
You can always unsubscribe with just 1 click.
Altcoin News, Cryptocurrency, Dogecoin (DOGE), Elon MuskRead More
OhNoCrypto
via https://www.ohnocrypto.com
, Khareem Sudlow