Meme Coin Pack Flocks to Baby Doge as Dogecoin, SafeMoon and SHIB Slip
#crypto #bitcoin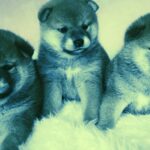 New meme coin Baby Doge (BABYDOGE) is enjoying a bumper week after a tweet by Tesla CEO Elon Musk—but its meteoric rise hasn't been mirrored by other meme-themed cryptocurrencies, with Dogecoin (DOGE), SafeMoon and Shiba Inu (SHIB) slowly going down with the rest of the crypto ship today.
Last Friday, the CEO of Tesla and SpaceX drew the general public's attention to Baby Doge, yet another Dogecoin knockoff, by tweeting about it. Whether or not he intended to reference the cryptocurrency, or was just making a Doge-themed joke about the famous Baby Shark song, his "endorsement" saw Baby Doge pump by roughly 130% from the get-go.
Baby Doge, doo, doo, doo, doo, doo,
Baby Doge, doo, doo, doo, doo, doo,
Baby Doge, doo, doo, doo, doo, doo,
Baby Doge

— Elon Musk (@elonmusk) July 1, 2021
At press time, Baby Doge is still way ahead of the crypto curve in terms of gains. The coin is trading at around $0.000000005584, up 57.4% over the past 24 hours and over 300% in the past week, according to crypto metrics platform CoinGecko. At the same time, Baby Doge's daily trading volume has topped $150 million.
Doge Day Afternoon
Baby Doge's success hasn't been mirrored by other meme coins. Dogecoin (DOGE), the granddaddy of them all, is currently trading at
$0.244862 and is down 2.1% on the day. Similarly, both SafeMoon (-6.5%) and Shiba Inu Coin (SHIB) (-2.3%) are sliding down, trading at $0.00000300 and $0.00000865, respectively.
That doesn't seem to have deterred crypto developers eager to cash in on the latest craze, though. Just yesterday, someone launched a knockoff of a knockoff in the form of "Baby Doge Cash." It's already surged by 432% in a day, proving if nothing else that the appetite for meme coins is seemingly insatiable.
The views and opinions expressed by the author are for informational purposes only and do not constitute financial, investment, or other advice.
Coins, DOGERead More
OhNoCrypto
via https://www.ohnocrypto.com
, @KhareemSudlow