Here's Why Analysts Think Ethereum Could Soon Move to $350
#OhNoCrypto
Ethereum has rallied slightly over recent highs after a strong correction from its $390 highs.
The coin now trades at $370 as of this article's writing, slightly below the aforementioned highs.
Despite tailwinds like Bitcoin moving higher and a strong legacy market, analysts think ETH is on a short-term downtrend.
Analysts say that there's a good likelihood Ethereum moves towards $350 in the near future.
ETH moving to $350 would mark an over 5% drop from the current prices.
Ethereum Could Soon Drop Towards $350
Ethereum is prepared to move lower after shedding the support of an uptrend formed at the start of September. One analyst shared the chart below on September 20th, noting how the recent technical reversal could lead from a drop from $370 (where it is now) to approximately $355:
"Safe to say we went a different direction than I originally intended, but I never lost sight of the liquidity I depicted in my previous tweet. It now looks to me that we are on our way to the triple lows. Fortunately I hedged on my "On the Verge" post last night."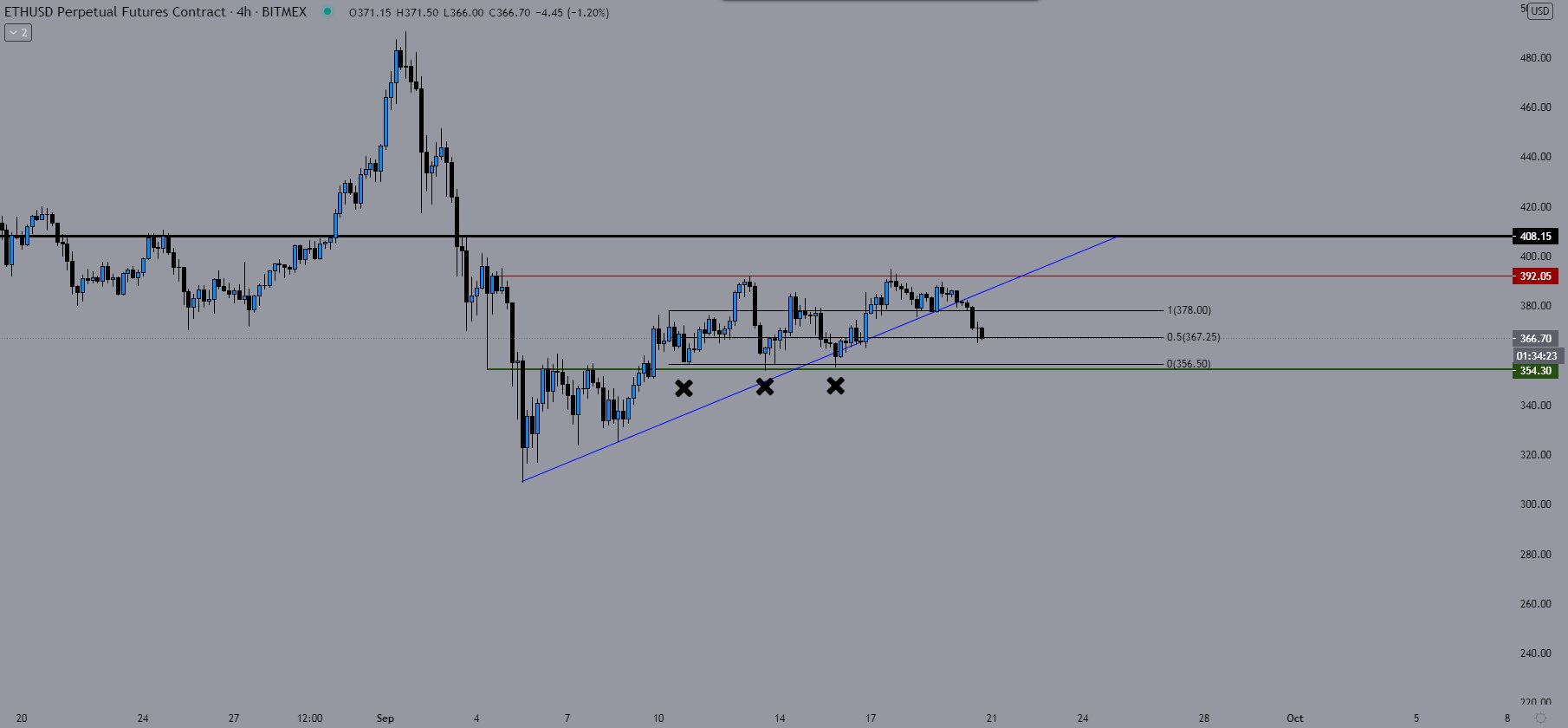 Chart of ETH's price action over the past few weeks with analysis by crypto trader Chase NL. Chart from TradingView.com
This was echoed by another market commentator, who noted that Ethereum's ongoing drop is setting it up for a decline to $330:
"Looking good now after the rough start to the trade. We are testing Monday's midrange now. If we lose the weekly open then I'll try to compound this targeting 355 then mid 330s. Took 50% off at the target and letting the rest ride for now. Should be a good week!"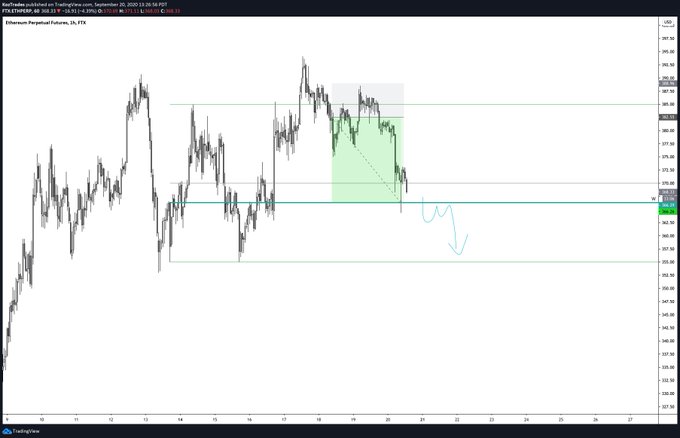 Chart of ETH's price action over the past few weeks with analysis by crypto trader TraderKoz. Chart from TradingView.com
Long-Term Trends Still Bullish
Investors are still optimistic about Ethereum's medium to long-term prospects despite current price weakness.
Chris Burniske — partner at Placeholder Capital and a former crypto-asset analyst at ARK Invest — recently found that a majority of his followers think ETH will finish 2020 above $500 and beyond.
Where is $ETH by the end of 2020?

— Chris Burniske (@cburniske) September 12, 2020
Corroborating the expectations of upside, Ethereum has continued to see notable technical developments. Raul Jordan of Prysmatic Labs recently remarked that the ETH2 upgrade is set to go live in November:
"We can likely perform a feature freeze by mid October, allowing us to only work on security improvements and UX before going live. If all goes well, November is still looking good for a launch from our perspective."
The upgrade is expected to boost ETH's potential by giving it a staking premium, along with giving it more capacity to process more transactions.
Photo by Jr Korpa on Unsplash
Price tags: ethusd, ethbtc
Charts from TradingView.com
Here's Why Analysts Think Ethereum Could Soon Move to $350
OhNoCryptocurrency via https://www.ohnocrypto.com/ @Nick Chong, @Khareem Sudlow