Chainlink (LINK) Surges 15%—and Analysts Think There's More to Come
#crypto #bitcoin
Chainlink (LINK) has embarked on a strong recovery over the past 24 hours after plunging over 50% from its all-time high set in August. The coin now trades up 15% in the past 24 hours, meaning it's on the verge of reclaiming the $10 support level.
LINK's recovery comes as Bitcoin has undergone a strong bounce after dipping under $10,200 on Wednesday. BTC now trades at $10,700 as of this article's writing, just around 5% above those lows.
Analysts think that Chainlink has room to move higher after the surge.
Chainlink Has Room to Rally After 15% Surge
LINK may have further to surge after already gaining 15% in the past 24 hours according to top analysts.
One historically accurate analyst that predicted Bitcoin would undergo a V-shaped reversal in the middle of March's crash recently said that LINK is primed to return towards its all-time high. He said on the matter:
"Stinkbids on $LINK at $8-9 and accumulating some now around $10. Invalidation if price starts fucking around below stinkbids & will build more size if trend confirms. I think this is going to $28-32 on the next run. $BTC pair also looks ready to turn around soonish."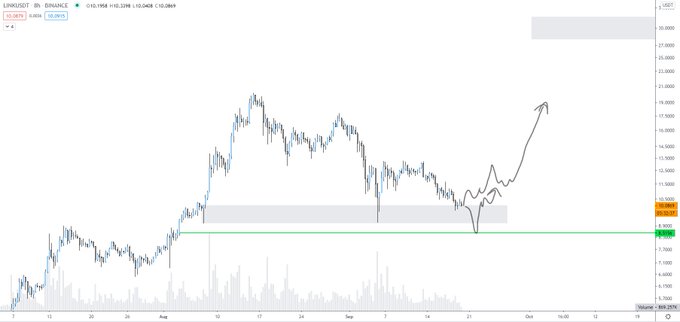 Chart of Chainlink's price action over the past few weeks with analysis by crypto trader Bitcoin Jack. Chart from TradingView.com
This has been echoed by other analysts in the space.
Edward "Teddy" Cleps echoed the optimism, sharing this chart below. The chart accentuates that LINK's ongoing rally is the coin defending a critical technical level.
The chart seems to suggest that since LINK held the support of $7.90-8.00, it may be cleared to rally towards $13, then above and beyond if it can also claim that level.
Chart of Chainlink's price action over the past few weeks with analysis by crypto trader Edward "Teddy" Cleps. Chart from TradingView.com
All Eyes on Bitcoin
Bitcoin's price action, though, is likely to dictate the price action of altcoins moving forward. While LINK's correlation with BTC is not perfect, the leading cryptocurrency should lead all altcoins.
Bitcoin remains in no man's land as noted by a number of analysts. The cryptocurrency has failed to secure $11,000 as support but remains above the low-$10,000s, where a number of corrections have stopped over the past three weeks.
Bitcoin established a direction from here is likely to establish Chainlink's overall directionality.
Featured Image from Shutterstock
Price tags: linkusd, linkbtc
Charts from TradingView.com
Chainlink (LINK) Surges 15%—and Analysts Think There's More to Come
OhNoCrypto
via https://www.ohnocrypto.com
Nick Chong, @KhareemSudlow