Cardano Gains Momentum as Ethereum 2.0 Release Continues to Stall
#crypto #bitcoin
Ethereum co-founder, Vitalik Buterin, recently appeared on the Hashing It Out podcast to discuss the latest developments with Ethereum.
Hosts Corey Petty and Dean Eigenmann quizzed Buterin on his regrets over Ethereum's initial launch, and how ETH2.0 will gear towards addressing those concerns.
With that, Buterin acknowledged that, when designing Ethereum, many mistakes were made. With the benefit of hindsight, he admits that the Ethereum architecture isn't as efficient as it could be.
One example he gave related to the use of hexary trees, instead of binary trees, to store contract data.
Guillaume Ballet noted that hexary trees hamper scalability, as this method requires constant recalculation of the hash root.

As well as that, during his explanation, Buterin also expressed regret on how the gas system was setup.
"we really didn't do a good job in setting those in the beginning."
It recently emerged that a $130 Ethereum transaction incurred gas fees of $2.6 million. Some theorize that this was an intention game of the gas system as a result of money laundering. But whether or not this is true, it still highlights flaws within Ethereum's gas system.
overall the ethereum community is wayyyyy too overconfident about people paying high gas fees if reasonable alternatives exist.

watching ethereum overtake bitcoin has been fun.

watching the ethereum community fall for the same overconfidence trap that befell bticoin is scary.

— scott lewis (@scott_lew_is) June 30, 2020
While ETH 2.0 intends to address such concerns, as a live blockchain, legacy architecture must be taken into account to deliver Buterin's vision for the future.
As such, past decisions and setups are working to hinder the progress of ETH 2.0 today.
"we definately did underestimate how much time it would take to finish a lot of the things that we didn't start back in 2015, with proof of stake and sharding probably being two of the biggest things."
Ethereum 2.0 is Long Overdue
Delays to the rollout of ETH 2.0 have left the community none the wiser as to when it will launch.
Initially, core developers scheduled ETH 2.0 to rollout in January 2020. But that date came and went.
More recently, Buterin backtracked on a July launch, claiming that he had misheard a question posed at the Consensus: Distributed conference.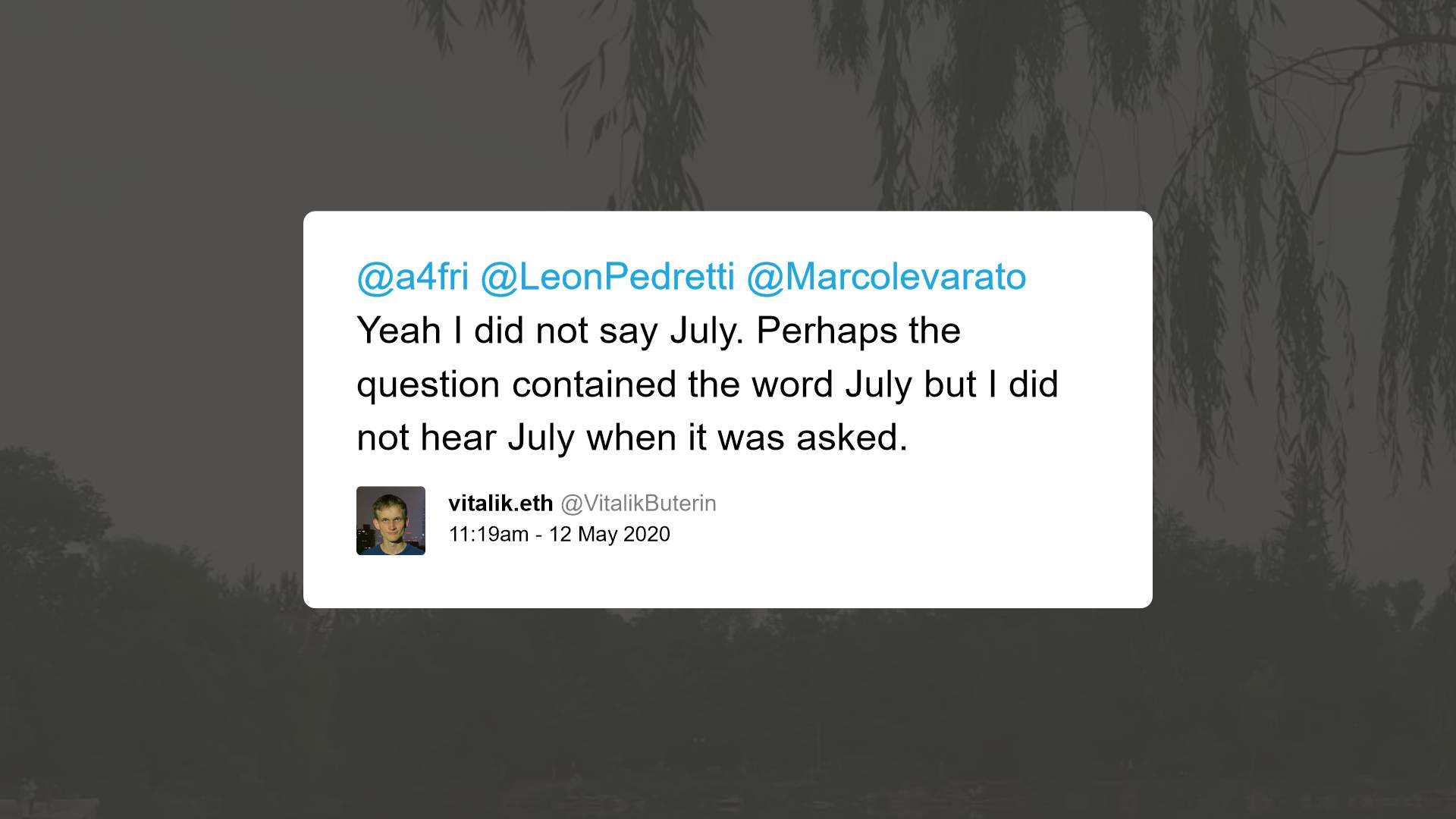 Source: twitter.com
Meanwhile, it's all systems go at Cardano. The Shelley mainnet is gearing up for launch at the end of this month.
What's more, as a ground-up cryptographic project designed using knowledge garnered from over sixty peer-reviewed academic journals, Cardano doesn't need to contend with correcting past design decisions.
Cardano's Progress is Starting to Turn Heads
Cardano is a third-generation proof of stake blockchain that reportedly offers 1 million transactions per second via Hydra Sharding.
The start of July saw the price of ADA pump, leading to a new year-to-date high. The move was enough to send it from 10th place to 8th on the CoinMarketCap rankings.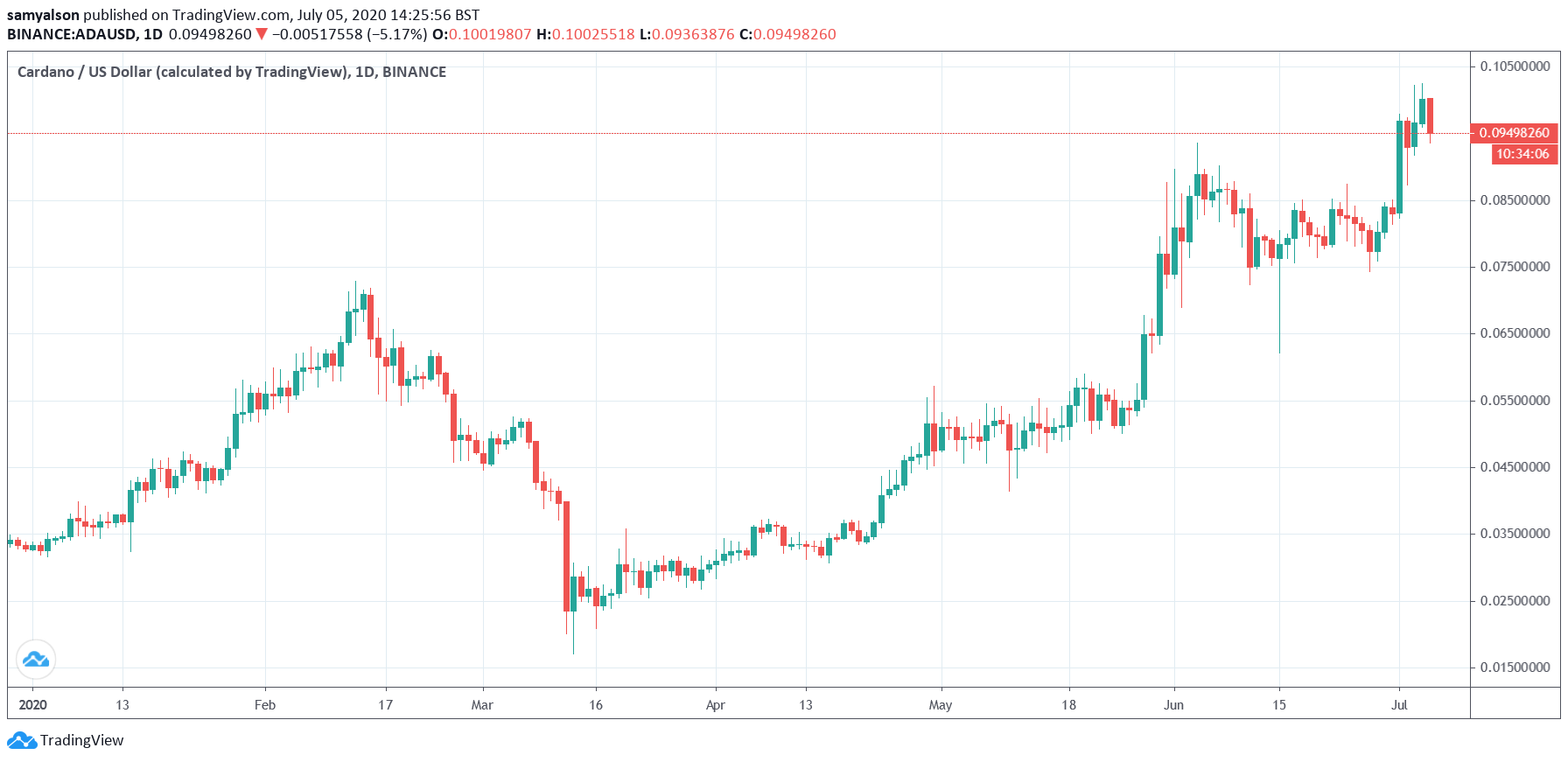 ADA daily chart. (Source: tradingview.com)
While Ethereum boosts the largest community of developers, as well as an advantage in terms of existing dApps on the platform, Cardano is working to level things out.
IOHK recently announced a $20 million development fund for entities wishing to build on the Cardano network.
With that, the momentum gained this past couple of weeks has the crypto community looking at Cardano as a serious contender once more.
Although the term "Ethereum killer" is often bandied about, leading to a loss in its meaning, when it comes to Cardano's achievements of late, there can be no doubt that Buterin is feeling the heat.
OhNoCrypto
via https://www.ohnocrypto.com
Samuel Wan, Khareem Sudlow