Here's Why Ethereum Could Soon Continue Surge Higher Against Bitcoin
#OhNoCrypto
Ethereum, despite what some readers may think, did not see a positive 2019. In fact, the cryptocurrency plummeted, actually registering a yearly loss in 2019, dramatically underperforming Bitcoin's gains of nearly 100%.
This meant that the market for ETH/BTC fell off a cliff, with the price of one Ether falling as low as 0.016 BTC — the lowest the pair had been in years and around 90% below the all-time high well above 0.1 BTC.
Though, over the past few weeks, Ethereum has shot higher against the U.S. dollar and against BTC, and a confluence of technical analysis suggests this trend is likely to continue.
Ethereum Ready to Push Higher Against Bitcoin, Analysts Reckon
Analyst Byzantine General recently noted that the chart of Ethereum against Bitcoin (ETH/BTC) is currently showing signs that the strong uptrend it has formed to start 2020 may continue.
Backing this sentiment, the analyst posted the below chart, which shows that there is a convergence of technical signs suggesting upside is impending: a four-week uptrend remains intact, the price is forming a symmetrical triangle that is leaning towards the upside, and the RSI and price are printing a bullish divergence.
It isn't only Byzantine General who thinks Ethereum may soon continue its already-jaw-dropping rally against the market leader.
Trader Loma, in fact, suggested that ETH/BTC could be on the verge of going vertical.
The trader posted the below chart to back his point, showing that the trading pair has begun to consolidate above the key horizontal support around 0.026 Bitcoin; in fact, the pair has remained above this key inflection point for around 10 days now, boding well for the bullish narrative.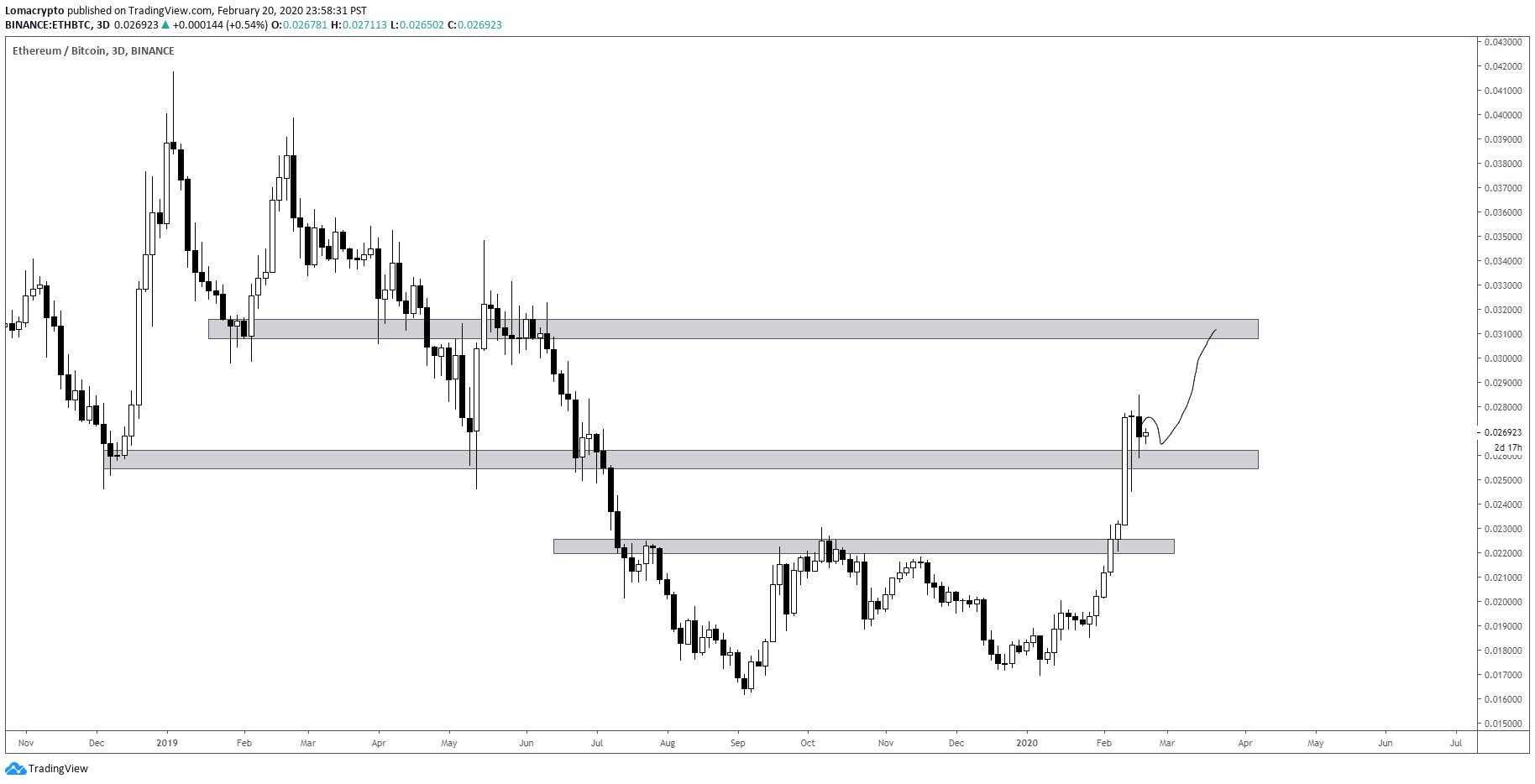 This consolidation, Loma depicted, is a likely sign ETH will rally 15% against Bitcoin in a near-vertical fashion in the coming weeks, boding well for those with heavier allocations to Ethereum than Bitcoin.
It Might Be Bitcoin's Time to Shine
While there are valid technical analyses to back the idea that ETH/BTC is ready to push higher, some are warning of an impending pullback in the broader altcoin class, meaning Ethereum should retrace too.
Investor and industry commentator Josh Rager recently touched on this discussion, writing the following commentary:
BTC dominance was near two-year highs in 2019 but we saw it tail off as altcoins rallied over the past couple months. We can see volume possibly decrease w/ an increase in BTC dominance in the coming weeks if price continues pullback.
$BTC dominance was near two-year highs in 2019 but we saw it tail off as altcoins rallied over the past couple months

We can see volume possibly decrease w/ an increase in BTC dominance in the coming weeks if price continues pullback

Pick your alts wisely via the alt/btc charts pic.twitter.com/x42F72lrK1

— Josh Rager 📈 (@Josh_Rager) February 21, 2020
Photo by Mohamed Nohassi on Unsplash
OhNoCryptocurrency via https://www.ohnocrypto.com/ @Nick Chong, @Khareem Sudlow