Bakkt Bitcoin Futures Volume Explodes Past $30 Million as Market Bounces
#Bitcoin #OhNoCrypto
On Wednesday morning, it seemed as though things were about to go south for the Bitcoin market yet again.
For those who missed the memo, notable Korean cryptocurrency exchange Upbit revealed that it had been hacked for $50 million worth of Ethereum (ETH), sparking an immediate 2% sell-off that some described as a "black swan" event that could tank this market for weeks.
Contrary to these fears, though, Bitcoin jumped. In fact, after hitting $6,800 on Wednesday morning, the cryptocurrency shot all the way back up to $7,600 — a nearly 15% move.
This spike liquidated dozens of millions of dollars worth of short positions on BitMEX, signifying that bulls may be gaining momentum.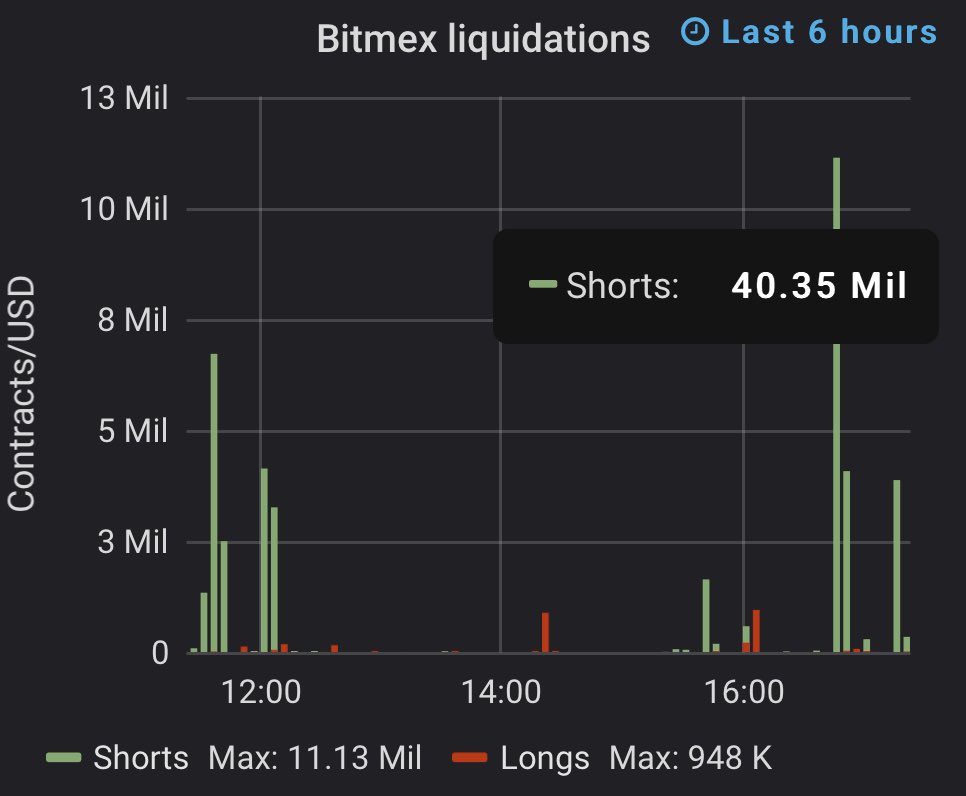 Institutions, it seems, picked up on this move and volatility, with futures exchange upstart Bakkt revealing during Wednesday afternoon that its derivatives market set an all-time high in terms of volumes.
This signifies an uptick in institutional interest in Bitcoin, which comes in spite of the fact that the cryptocurrency market has shed more than 50% over the past five-odd months.
Bakkt Bitcoin Volume Explodes
Bakkt reported in the middle of the day on Wednesday (PST) that the volumes for its Bitcoin futures reached a record high, surpassing 4,443 contracts — up 60% from the exchange's last record-setting day last week.
This is equivalent to about $32 million as of the time of writing this. (For some perspective, the cash-settled Bitcoin contracts from the CME Group have seen nearly $500 million worth of volume today, though that market is nearly two years old.)
Sure, this is far from the hundreds of millions (sometimes billions) that market leaders Binance, Coinbase, and Kraken see each every day, though it's an improvement from the sub-$2 million daily volumes seen at Bakkt earlier this month.
Two months after their debut, Bakkt Bitcoin Futures reached a record high of 4,443 contracts traded today – up over 60% from our last record-setting day

We look forward to building on this momentum as we approach the launch of the Bakkt Bitcoin Options contracts on Dec 9th

— Bakkt (@Bakkt) November 27, 2019
It is important to note that at the time of Bakkt's above tweet, the trading day wasn't even complete. As of the time of writing this article, the exchange has seen nearly 5,000 Bitcoin worth of contracts traded, which is not a sum to sneeze at — that's for sure.
While Bakkt's volumes are a sign of institutional trading interest, Bakkt's open interest metrics are signs of institutions' propensity to hold Bitcoin. Cryptocurrency data Twitter page Ecoinometrics recently noted that the open interest in the Bitcoin futures contracts has surged by hundreds of BTC over recent days. This implies that "some people are seeing the price dip as a good occasion to get in long."
#Bakkt #Bitcoin Futures Activity Report

Oh boy! Look at that surge in open interest! Some people are really seeing this price dip as a good occasion to get in long.

Keep an eye on it with the daily updated Bakkt #BTC activity report pic.twitter.com/gYsPXaw2qp

— ecoinometrics (@ecoinometrics) November 26, 2019
Bakkt Looks to Build on Momentum
Bakkt is looking to build on the exponentially-increasing volumes of its futures market.
Just last week, the Intercontinental Exchange — the owner of the New York Stock Exchange and seeming majority owner of Bakkt — revealed that its Singapore branch will be launching the Bakkt Bitcoin Cash Settled Monthly Futures for the island state. The cash-settled contracts will be settled against the prices of Bakkt's flagship product, the U.S.-regulated Bitcoin futures that were mentioned earlier in this article. Lucas Schmeddes, president of ICE Futures and Clear Singapore, said on the matter:
"Our new cash settled futures contract will offer investors in Asia and around the world a convenient, capital efficient way to gain or hedge exposure in bitcoin markets."
Also, Bakkt will be launching the first regulated options contract for Bitcoin futures in around two weeks' time. The options contract will allow institutional investors to "hedge or gain bitcoin exposure, generate income, and offer cost and capital efficiencies," according to a blog post on the matter.
While it isn't clear if the launch of these products will have a material impact on the Bitcoin market, investors are hoping that this will draw in more institutional players, thus increasing the chance that money enters the market and pushes prices higher.
The post Bakkt Bitcoin Futures Volume Explodes Past $30 Million as Market Bounces appeared first on Blockonomi.
OhNoCryptocurrency via https://ift.tt/2PblI7a @Nick Chong, @Khareem Sudlow