Platinum Q DAO Engineering Reports: Trade Q DAO, USDQ & KRWQ on IDEX Now!
#crypto #bitcoin
Coinspeaker
Platinum Q DAO Engineering Reports: Trade Q DAO, USDQ & KRWQ on IDEX Now!
Fully decentralized stablecoins USDQ and KRWQ as well as the governance token Q DAO have been listed on a cryptocurrency exchange called IDEX, co-founder of the world's leading developer and listing provider Platinum Q DAO Engineering Anton Dziatkovskii announces. As of July 25, 2019 users are able to trade their Q DAO, USDQ, and KRWQ on a top volume decentralized exchange.
Traders will be able to find the QDAO/ETH, USDQ/ETH, and KRWQ/ETH pairs available on the IDEX exchange. The platform is a part of the Aurora decentralized banking and finance ecosystem and is one of the top exchanges in volume, liquidity, and security. IDEX uses the Ethereum network and allows trading of ERC-20 tokens.
Platinum Q DAO Engineering Co-Founder, Anton Dziatkovskii:
"It's absolutely necessary that our stablecoins can be traded on as many platforms as possible. We want USDQ and KRWQ to first serve as a gateway to a new and truly decentralized ecosystem that solves volatility. We are glad that IDEX has not only chosen to list our stablecoins but also our governance token, the Q DAO token. This is another great milestone that we have planned and achieved thanks to the help of our community and team."
An Ethereum Based Decentralized Smart Contract Exchange
The IDEX platform handles real-time trading and high transaction throughput that makes it a top choice for cryptocurrency listings. IDEX is also one of the most advanced applications based on decentralized exchange principles (DEX). The trading platform supports limit and market orders, gas-free cancels, and an option to fill many trades at once.
Traders that have used EtherDelta, another decentralized exchange based on ETH, will find that IDEX also uses smart contracts to guarantee secure private key management and to enable trades in a peer-to-peer (P2P) environment. Additionally, the IDEX exchange is compatible with MetaMask and Ledger Nano S wallets for users that want enhanced security.
The Q DAO Smart Contract Manages the New-generation Stablecoins USDQ and KRWQ
The team at Platinum Q DAO Engineering has created a better solution for stablecoins, especially for users that believe in cryptocurrency as a better way to transact value online. These new-generation stablecoins base their issuance on the principle of over-collateralization, making it possible for each USDQ or KRWQ to be insured as of the moment they are generated. The insurance policy behind each token is a Bitcoin (BTC) deposit held inside the ecosystem which, in turn, manages it as a guarantee of its value.
Another important part of the Q DAO ecosystem is its Q DAO governance token. The Platinum company believes in handing down the power of the ecosystem to its users in a truly decentralized fashion.
In order to achieve this, Q DAO tokens are used to adjust the deposit collateralization levels, pay back the fees accrued by the BTC deposits that generate these stablecoins. This governance token also allows holders to participate in the voting concerning hedging the risks within the system and adjusting it to the reality of the BTC market at any given time.
USDQ, KRWQ, and Q DAO Continue to Rack Up Listings
As of now, users can obtain Q DAO tokens on BTCNEXT, Hotbit, and BTC-Alpha. USDQ and KRWQ stablecoins are also listed on some of the most popular cryptocurrency exchanges such as BTCNEXT, Hotbit, and BTC-Alpha.
Q DAO tokens can also be obtained by means of participating in a round of the IEOs that are held by the Platinum team until the final round on March 2020. Potential buyers will also have access to an OTC desk where 35,000 tokens per month will be offered at different locking times.
USDQ and Q DAO High Demand Prognosis
Recent analysis suggests that one of the leading use cases for stablecoins is with remittances, where the enormous global market for remittances is expected to grow at a CAGR of 25.1 percent from 2019 to 2024. Decentralized and open lending protocols like Q DAO are in huge demand against standard fiat-based stablecoins.
The different versions of stablecoins range from fiat-collateralized to crypto-collateralized, with the former the most prevalent but the latter also gaining traction with stablecoins like Q DAO stablecoins family. As the crypto ecosystem trends towards more open and decentralized financial tools, stablecoins are poised to play an integral role in the market.
That leads to increasing demand not only for stablecoins itself but governing token Q DAO as well. The price of such token grows exponentially and showing the %500 growth (or higher) in such projects as Maker DAI and Q DAO. The main reasons for such Q DAO boost are:
International partnerships with crypto experts and exchanges all over the world
Big demand from the whales and big investors
Limited supply in the market
Participating in the management of the Q DAO ecosystem. So users are becoming an actual shareholder and can decide where new truly transparent and decentralized state goes.
Wide spreading and utility usage of all elements in the ecosystem with no limitations, which attracts users all over the globe
About Anton Dziatkovskii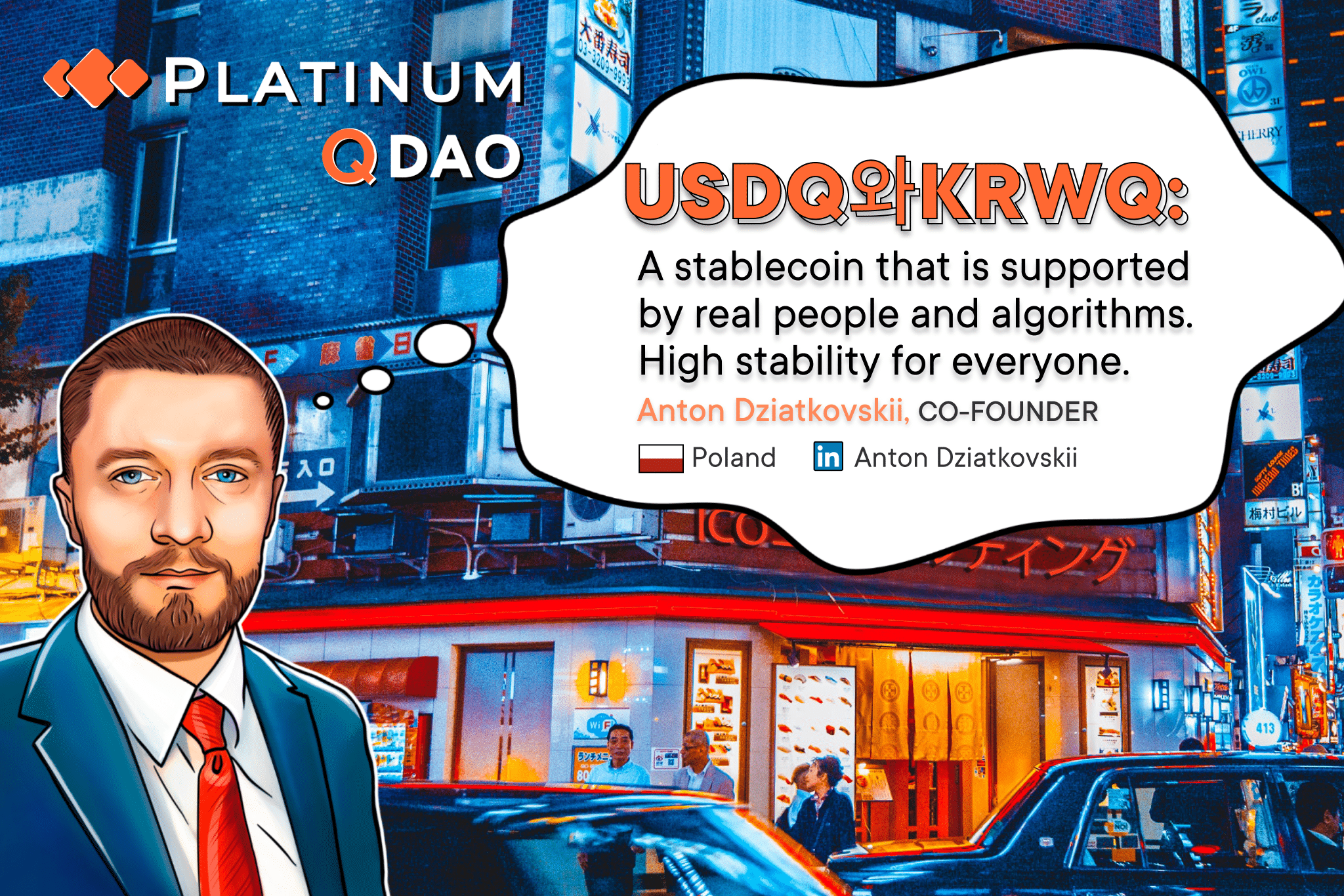 Anton Dzyatkovskii is the blockchain architect lead of Platinum Q DAO Engineering, a passionate entrepreneur and a skilled negotiator. He is a hardworking business leader with more than 13 years of experience in different positions in FinTech, Retail, and E-Commerce. Experienced in expanding financial businesses to totally new markets. Moreover, Anton is also a co-founder of Platinum Q DAO Engineering, where he has helped to develop USDQ, JPYQ, and KRWQ, the fully decentralized stable coins that simplify Bitcoin collateralization.
About Platinum Q DAO Engineering
Platinum Q DAO Engineering is an international consulting, promotion, and fundraising company building a future where all assets – from money to commodities to securities—will be digitized and can move instantaneously 24/7. The company's mission is to make people's lives better and facilitate economic growth by developing cutting-edge products that provide trustworthy, safe, and seamless access to any virtual assets.
Visit the website for the latest updates on USDQ, KRWQ, and JPYQ. Join the official English, Japanese or Korean Telegram chat and get regular updates on events and development. You can also join the official Line or official Kakao Talk to ask questions in Japanese and Korean directly to the Platinum Q DAO management team.
Platinum Q DAO Engineering Reports: Trade Q DAO, USDQ & KRWQ on IDEX Now!
OhNoCrypto
via https://www.ohnocrypto.com
Svetlana Soroka, Khareem Sudlow